Basic Tips for Creating a Content Strategy that Stimulates Conversation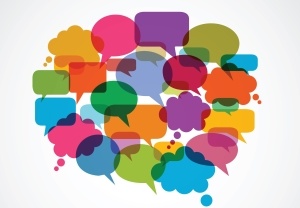 When people engage, they are more likely to become customers. Find out how to get the conversation started!
Creating conversations between you and your potential customers is a great way to provide information, build trust, and generate effective leads.
But actually getting the conversation started can be a bit of a challenge. The goal, essentially, is to prompt prospects to engage with you through providing content that is informative, stimulating, and interesting.
It might sound difficult, but with a quality strategy based on exceptional content (not keyword-stuffing), you'll discover that lots of people want to be in a conversation with you and your business. These exchanges will pay off, too: Eighty-two percent of marketers who blog have seen a positive ROI on inbound marketing!
Once the discussion starts, you can take additional measures that turn prospects into loyal customers. But first, you need to start one ...
Write about your current customers' questions
What are your customers asking you on a daily basis? If there is a common question or topic that comes up, it stands to reason that other people would be interested in the subject. Whether this is related to your specific business or a product you provide, it will likely make for conversation-inducing content.
Use social media feedback as inspiration
This is very similar to the above suggestion. Scan your Facebook, Twitter, LinkedIn, and other social media accounts for common areas of discussion. Maybe there is a specific event related to your field that is getting all the social media attention. Perhaps there is a news story strongly (or even loosely) related to your business that is trending. You may even want to check out a competitor's profile to see what topics are generating conversations there.
Ask your employees for content ideas
Very few people know your business better than your employees, so encourage them to come to you with ideas that will stimulate conversations with your prospects. Your workers have front-line perspectives on the most important subjects facing your customers and your business. Use this experience to your advantage!
Ask a question when posting on social media
Few things generate conversation like a question mark, so when you post a finished piece of content, link it on your social media profiles and ask a question related to the article. For example, if you are in the health profession, you might write an article about a major breakthrough in medical technology, then query your followers for their thoughts.
It's best to ask yes-or-no questions, such as "would you use this new technology," or "are you intrigued by the latest advancements in pain management?" This will make it easier for your followers to jump in and provide their opinions, generating even more conversation from there!
When individuals reply to your questions, remember to be social on social media. Make sure you are reading and commenting yourself – consistently responding will build engagement with your customers and prospects, and keep the conversation rolling.
Write about the industry, not your business
This is probably the most important point to remember when creating content: write about your industry, not about the specifics of your business. You won't build as many conversations by highlighting the basic services you provide, the products you build or sell, or the advantages of your company. That's essentially flat-out advertising, which can enhance the business but doesn't stimulate discussion. Save it for your commercials and ads, or a relatively smaller portion of your content.
When you keep the focus on your industry and your corner of the market, you create material that is educational, engaging, and stimulating. And when you create exceptional content, people will naturally want to talk about it, creating more discussions and eventually more sales!
Create a content plan that works
Want to create a content plan that generates conversation and interest in your company? Contact ContentBacon today and let us build a strategy that leads people to your business. With the right material, you can have more relationships, more leads, and more customers – let us make it happen for you!
How's your current content plan?
We're offering a no strings attached content assessment. Have our experts provide you a free evaluation of your content plan and we'll provide you some free strategy on how to optimize. On the house (really).