Why You're Better Off Outsourcing Content Creation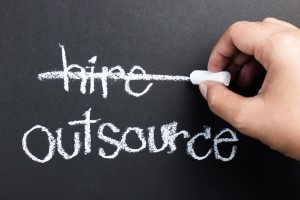 Four arguments for outsourcing your content
Okay, we realize this is kind of like asking a car salesman why you should buy a new car, so, let's nip that association in the bud. Number two on Entrepreneur magazine's list of five things you're better off outsourcing is "writing and social media." We promise we didn't pay them to write that, but we couldn't agree with them more, and here are four reasons why.
1. Writers love to write
Everybody probably knows at least one, you know the friend or colleague whose emails could be converted into books, and text messages are inappropriately long. If you don't enjoy writing, you're probably not going to be all that great at it. When you outsource your content, you're hiring a company of storytellers who seek out the best raconteurs in the business to tell stories for your audience.
2. Don't you...like, got somethin' better to do?
So, let's say you love to write and if you could spend your days writing about your company, that's all you'd do. Few business owners have that luxury, but until you do, coming up with meaningfully engaging content can distract you from running your business the way it needs to be run. Hiring a freelancer can be a daunting task, so, again, we're back to reason one: when you outsource your content writing you're hiring expert writers who have built their own team of expert writers to provide content for you, at least until you have the luxury of doing it yourself.
3. It's not just about the content
Let's just assume you're not in the content creation business. If we allow that to be true, then logic insists you're not a professional content creator. See where this is going? The reason why you go to a computer expert when your PC crashes is because they know what they're doing. An expert is going to know strategies and methods for SEO that come from many years in the business. When you outsource your content you're getting the benefit of experience that goes beyond just creating content.
4. Establishing brand loyalty
A well managed blog, or content strategy, is designed to inspire confidence in your company. Getting your research right can take time, and the last thing you want to do is feed bad information to your audience. Delegating this task to a specialized team of experts (to whom you don't have to pay out benefits) lets you rest assured your audience is getting thoroughly researched, and engagingly delivered information that establishes your company as having your finger on the pulse of your industry.
Yes, we're biased
If we weren't passionate about creating juicy content, you wouldn't be reading this right now. Our writers love to write everything from emails, to newsletters and blogs, and they know how to navigate the tricky terrain of Internet research so your readers don't end up feeling like they just stepped onto a used car lot.
If you're considering outsourcing your content creation, give us a call at 1.800.748.5805 to discuss the best content strategy. Or, visit our website to set up an order and get started right away!
How's your current content plan?
We're offering a no strings attached content assessment. Have our experts provide you a free evaluation of your content plan and we'll provide you some free strategy on how to optimize. On the house (really).