Just Starting a Business? How to Get Your Content Marketing Right from Day One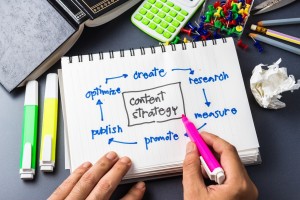 Even as a start-up, you can conquer the content realm with ease
Shopping for bacon can be a daunting experience. Gone are the days when one could just purchase ordinary slabs of juicy, salty, delicious meat. Today, there are choices: thin cut, thick cut, center cut, low sodium, maple, hardwood smoked, hickory smoked, turkey—and don't even get me started on the gourmet flavors.
In a sense, the same could be said about starting a business.
Once upon a time, a start-up wasn't even called a start-up. It was a new business, and it was as easy as getting a loan, hanging up a shingle, purchasing an ad in the local Pennysaver, and waiting for word-of-mouth referrals.
Then the Internet came along and the marketplace changed—and starting a business is now as overwhelming as the bacon-buying brouhaha.
Your table of content
It's really no secret that today's businesses, if they're going to remain relevant and in the public eye, must have a website—and that website must have content and that requires content skills.
Content is, quite simply, you, your message, and how you want to reach and keep potential clients in the know. It's your voice in the digital age. According to Forbes, "Content is what informs, entertains, and inspires us". There's really no denying that—if we may say so ourselves.
From the moment a potential client reaches your webpage, they are immersed in your content. It's the landing page, the about us page, the FAQ page, the contact us page, and the blog page. (Don't even say you didn't know you had to have a blog. We've already covered that.)
Here, then, are a few rules of engagement to keep in mind as you build your content strategy and skills.
Mission
Your content must have soul. Without passion, honesty, and integrity, your content will sound more like a pick-up line rather than a sincere proposal. Not only will it resonate as flat and insincere, your clients will see right through it and—as a result—you.
Research
Whatever your service or product, own it. Own all of it. That means:
Defining the audience you're hoping to attract and what they need
Looking at what your competition is doing, how they're doing, and what you can do different or better
Staying ahead in the game by spotting trends
Incorporating popular and upcoming platforms, such as Pinterest or Instagram, into your game plan
Structure
Content structure provides the framework to support your content strategy. In addition to using proper grammar, spelling, syntax, proofreading, self-editing, and rewrites, structure must also make a nod toward consistency and an easily digestible length.
Generally speaking, aim for 500-700 words. Too little and your readers may not be satisfied; too long and they may click away.
By the way, content is not a long-form advertisement or filler for you or your business. It's also not a high school essay exercise. Always remember your potential clients can smell BS as quickly as your English Lit professor knew you never read the assigned novel.
Performance
In order for content to make a lasting impression, it must make an emotional connection with your audience. This doesn't necessarily mean it has to make them cry or laugh. Instead, it must be true, well written, informative, and able to satisfy their wants and needs.
If this isn't enough to raise your anxiety level, consider that your audience will grade you on your performance.
Plan B: "b" as in bacon
Most new business owners, when they developed their plan, never thought they would also have to be website managers and content publishers. That's why there's a Plan B, the option of working with an agency to assist you in developing a content strategy and voice that's consistent with your brand.
Content Bacon knows how to make bacon buying and content creating easy and fun. Our team of editors and writers can help you develop topics, research trends, engage with your audience, and meet your structure and performance goals. Contact us today at 1.800.748.5805 or fill out our online contact form.
How's your current content plan?
We're offering a no strings attached content assessment. Have our experts provide you a free evaluation of your content plan and we'll provide you some free strategy on how to optimize. On the house (really).