WTF, IDK! Wading Through the Jungle of Content Marketing Acronyms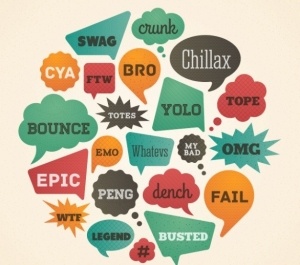 Learn the lingo of the content universe
Lingo is an important part of any industry. Whether you're a store manager, graphic designer, nurse, or content marketer, knowing the jargon is crucial for identifying the tricks of your trade. If you're new to content marketing, you'll need to know that we're big on acronyms. But it can be difficult to narrow which are the head honchos and which can hit the vocab highway.
Before you drive yourself crazy with abbreviations, we'll lend you a hand:
• CMS: Content Management System
We're going to be real with you: your content management system is going to be your best friend (besides us, of course). If you're hoping to embark on the world of content marketing, you'll need to set up a website or blog. A CMS (such as WordPress) allows companies, brands, and bloggers to manage and edit their page. You can host your site through a CMS or you can simply run a blog through one. Either way, your CMS is a key element of your entire content marketing strategy.
• GA: Google Analytics
Google Analytics (and any other analytics tool) is used to monitor how well your website is performing. Additionally, it should reveal how individual blog posts rank, giving you a better sense of what your audience and website visitors are interested in.
As much as we hate to admit it, some strategies just don't work. But thanks to GA, you'll never be left playing a guessing game.
• SEO: Search Engine Optimization
Ah, the classic practice greatly used in marketing today. SEO is a tactic of many marketers utilize in an effort to help boost a company's ranking on the search engine results page (SERP). SEO strategists will research various keywords and phrases associated with a brand's audience and use that to capture them through the SERP.
These keywords are worked into an article title, blog post, metadescription, or throughout the website in hopes to secure a solid spot on Google.
• PR: Public Relations
Content marketing is often a means by which PR teams successfully do their jobs. Per their strategy, they work to develop a positive and relatable public image to represent the brand — all through content! Whether on social media, the blog, or via email, the content brands produce speaks directly to their culture.
• CTA: Call to Action
An important marketing message is only as good as its CTA. And without a CTA, it's not worth much at all. A CTA gives you the opportunity to encourage your audience to buy your product, services, or to adopt your message. It urges readers to follow through, and often does an amazing job at converting leads to sales. A CTA is often found at the end of a blog post or in a button linking to a company's website.
Think of it this way: you own a restaurant and you're trying to promote new entrées, so you give out vouchers for a free appetizer to get customer's mouths watering. You give them a tasty, meaty appetizer that's delicious — but leaves them wanting more. After they enjoy a scrumptious starter on the house, they'll be ready to order their entrée. That's the hope with a good CTA, too. It's just enticing enough to bring customers in and help convert them. Yum!
You're now basically a content acronym pro!
…But we know that navigating the world of content marketing can be pretty tricky on your own. If you're not quite feeling fully equipped, we are here to help! You can always turn to the content marketing pros — contact us today ( now THAT's a CTA in action)!
How's your current content plan?
We're offering a no strings attached content assessment. Have our experts provide you a free evaluation of your content plan and we'll provide you some free strategy on how to optimize. On the house (really).