4 Rules for Creating an Effective Blog on Your Website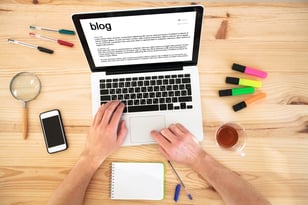 Wake up!
There was a time when websites were considered optional. There was also a time, more recently, when company blogs held the same consideration. Today, if your business doesn't have a blog you're not fully exploiting the power of the web, and if that blog's not effective, you're just spinning your wheels.
Blogs bring the web to your website
Approximately 44% of customers start their quest for a new product by searching the web. Whether they're researching prices, or performance, having the right keywords assigned to your blog is going to attract traffic. From there, your blog can lead them directly to your services.
This also presents an opportunity to strengthen your brand. By providing up-to-date information you're establishing your expertise, making your blog the go-to site for information, while at the same time increasing consumer confidence in your company and staff.
With a sturdy brand-image attached, your blog can become a community within itself. It gives your company the opportunity to answer customer questions directly, and create discussion forums that allow you to better understand how your goods or services are being used, and where to make improvements.
What makes a blog effective?
To put it simply: intellectual engagement. This doesn't require bland stats and dry wording, nor does it prohibit the art of using emotion to make your point. The idea is to satisfy whatever need brought the reader to your site in a way that comforts rather than frustrates.
Rule #1: Have a hook. Your first sentence should be an attention grabber, with a follow up paragraph hinting at how the blog is going to satisfy the curiosity that the hook created.
When thinking of a hook, try to imagine the most impatient person on the planet. Their head is loaded with concerns, planning everything from dinner to their retirement. Their environment is full of distractions from pop-up ads and TV to text messages, babies crying and more. Your job is to cast a spell on them, to snap 'em out of that impatient anxiety, calming them with curiosity.
That doesn't mean it has to be earth shattering. Your readers typically will have been led to your blog by a search for whatever it is you might be offering, so consider what questions they might want answered and you'll be off to a good start.
Rule #2: Easy reading. Have you ever opened an email that was so full of words that it made your brain lock up? It's important to have lots of white on your page, rather than long scroll-ish, fatigue-inducing paragraphs. While it's never a bad idea to make your blogs fun to read, you also need to realize it's unlikely your readers are there for the pleasure of reading in the same way they would a novel, so don't over indulge in the writing process.
Lists are an excellent way of providing easily digestible information. They get straight to the point, and make scanning your blog for answers a virtually effortless task.
Rule #3: Exploit multi-media. Some people would rather read an article while others prefer watching a video. In both cases, supporting graphics, or photographs can help illustrate your point while providing greater entertainment value.
Videos can bring more than entertainment to your blog, they can create an intimate connection with your customers. When we can see and hear a person it makes it easier to trust them, it can also give you an opportunity to show off functionalities of your product, or give a more thorough tutorial. In some cases you'll want to hire a production company to create a professional look, in others, just using your cell phone camera can be highly effective. It all depends on your audience, your product, and the specific type of message you want to get across.
Rule #4: Use keywords. Keywords are the handles for search engines and without them, you might as well just keep your blog on your desktop. It's important to get inside the heads of your prospects. Imagine all the different concerns, needs, and desires your product will satisfy and what kind of searches people will enter when looking for solutions. Then choose words that relate to their quest, that way when they click "search" your blog pops up offering a friendly, expert answer to their inquiry.
Bring on the experts
If you don't have a blog, chances are, your competitor already does, which means they're winning. Want to get a head of the competition with a useful and appealing blog? Content Bacon makes blogging and content creation easy. We offer a wide range of strategies and services to put you on top of your competition, even if they already have a blog!
How's your current content plan?
We're offering a no strings attached content assessment. Have our experts provide you a free evaluation of your content plan and we'll provide you some free strategy on how to optimize. On the house (really).